She looked like a wonder— her eyes would light my soul in the darkness. I loved looking at her when she is lost onto her own thoughts. She used to overthink everything— even her morning coffee. I liked that about her. She was the silent type— but her eyes were always loud, you can see everything through them— her dreams and fears. She liked to call herself "The imperfect human". I remember, she once told me that flaws are imprinted in our blood and as long as we breathe, we will make mistakes. She enjoyed the details of life— the color of the sky at dawn and the pace of my breathing when I look at her. She was so deep like a peculiar ocean. She was like a riddle, and I loved riddles.
The first time I saw her she was standing in the classic novels section— she was wearing a beige coat and a midnight sun scarf. She was glowing like the sun— I felt like I am standing at the edge of the universe. I remember following her around until she stopped at the last shelf. Her expression lighted up and her smile filled her tender face. She reached to a book, and then she held it to her chest— as if she is sensing its heartbeats. She turned around and looked onto my eyes. At that moment, I realized that I was no longer hiding behind the shelves but I was openly standing few steps from her— as if some kind of magic pulled me to her. She smiled at me warmly, "I adore this novel," she said as she waved the book— it was "The French Lieutenant's woman". I looked at her not knowing what to say. She looked at me for few seconds and then she walked to me, "Do you know what I love most about this novel?" She whispered. I shook my head carefully— not wanting to ruin this dazzling moment of silence. She opened the book gracefully and looked through the pages, then stopped. "It was not a pretty face, like Ernestina's." She read, "It was certainly not a beautiful face, by any period's standard or taste. But it was an unforgettable face, and a tragic face. Its sorrow welled out of it as purely, naturally and unstoppably as water out of a woodland spring. There was no artifice there, no hypocrisy, no hysteria, no mask; and above all, no sign of madness. The madness was in the empty sea, the empty horizon, the lack of reason for such sorrow; as if the spring was natural in itself, but unnatural in welling from a desert." Her voice was warm and silky. When she stopped, I couldn't lift my head to look at her— it felt like I was swallowed by a black hole. I felt her hand on my shoulder— her warm breath covering my skin. She said something onto my ears but I didn't understand a word— I was in a maze of magic. When she moved out of my space, she drained the whole air with her. I inhaled hardly, then I lifted my head looking for her— but she disappeared… as if she never existed. That day, I couldn't sleep. I stayed up all night watching the dark horizon and thinking about her.
Today, I am inside the same bookstore and standing at the same spot, holding the same book and reading the same lines— but I am here without her. I lost her five years ago to the void. I still see her inside her favorite books and coffee shops. I still smell her on my skin and everywhere in our house. I still feel her everywhere I go.
She was the universe and I was just a speck of dust.
-Imen Al Nighaoui
About the Author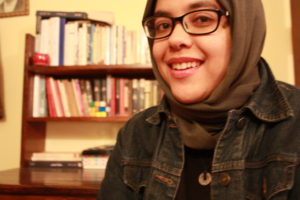 Imen Al Nighaoui is a writer and a translator. She lives in La Marsa, a Tunisian small coastal city. She loves reading books, all kind of them. She thrives on fantasy. She is, also, an activist. She is a dreamer and she believes in the power of words. She is currently working on her first dystopian novel.
Contact Information:
Twitter: Imen Al-Nighaoui (@FaithNIg) | Twitter
Additional Publications on PenThere.com: